Hi friends!
Yes, I've been blog stalking again. I get so many GREAT ideas from other librarians! Don't you?
I was reading
The Busy Librarian
and saw that Matthew Winner challenged himself and other librarians to read all of the books in a section of their library. Librarians would learn more about their collection and motivate each other to keep reading.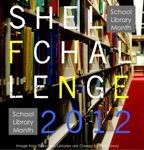 I love that idea, although I'm in an intense weeding phase and didn't participate. It made me think of another idea...challenging students to read all of the books on a given shelf in the library, and comment about the books in an Edmodo shelf challenge group.
I think that would be lots of fun for the students, who wouldn't have to spend much time thinking about what to read next. They'd get plenty of variety (unless I genre shelve, as I'm contemplating). It's pretty easy to explain and understand. I think it would be a blast!
Thanks for the
super Shelf Challenge idea
, Busy Librarian!